Homeless Outreach Services Team (HOST)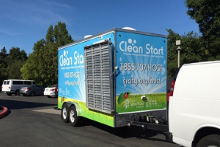 The Homeless Outreach Services Team (HOST), operated by Catholic Charities and funded by the City, is a street outreach team that actively works in our community to engage unsheltered homeless into services and housing in collaboration with the Police Department's Downtown Enforcement Team (DET) and other providers such as Social Advocates for Youth. The City Council funded this pilot effort starting in August 2015.  
For referrals call (707) 978-8329 or HOST@srcharities.org
 Clean Start Program
HOST operates the Clean Start mobile bathroom-shower trailer at various sites in Santa Rosa. In addition to providing access    to clean showers and bathrooms, the Clean Start program serves as an outreach tool to further HOST's efforts to engage persons experiencing homelessness in our community into services. View the current Clean Start Schedule. 
Sourced 3/17/20
Homeless Services Center (Catholic Charities): 525-0226
600 Morgan Street, Santa Rosa
Wednesdays 1pm-3pm
Clean Start Mobile Showers (Catholic Charities): 1-855-707-HOST
Tuesdays 10am-1pm @ 704 Bennett Valley Road (in the parking lot of the former Senior Center)
Saturdays 10am-1pm @ Santa Rosa City Hall Parking Lot
Redwood Gospel Mission: 542-4817
101 6th Street, Santa Rosa
Monday-Saturday 7am-8am
Redwood Gospel Mission Mobile Showers:
Wednesday @ Church of the Incarnation, 550 Mendocino Ave, Santa Rosa
Thursday @ Bayside Church, 3175 Sebastopol Road, Santa Rosa
Friday @ Mary Isaak Center, 900 Hopper Street, Petaluma