Finding better ways to support our students on their path to graduation.
Critical to student success at the CSU, the Basic Needs Initiative takes a holistic look at students' well-being both inside and outside the classroom, from housing and food security to mental health. We're working together to find better ways support our students on their path to graduation.
Lobo's Pantry
Lobo's Pantry is a space on campus that provides nutritious food, CalFresh food program assistance, and referral services for students experiencing food insecurity (those not having reliable access to a sufficient quantity of affordable, nutritious food). The pantry is closed during winter break and summer.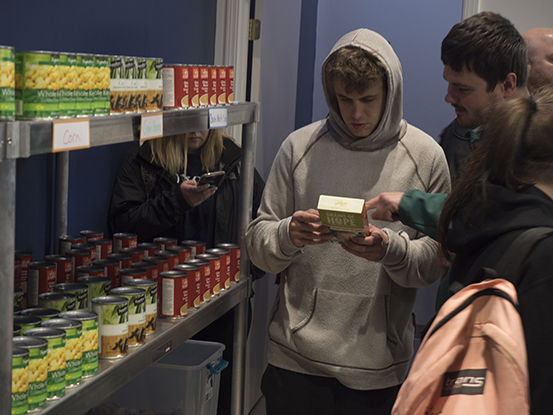 Fall 2019 Lobo Pantry hours
| Monday | Tuesday | Wednesday | Thursday | Friday |
| --- | --- | --- | --- | --- |
| 4 - 6PM | 5 - 7PM | 1 - 4PM | Closed | 1 - 3PM |
Lobo's Pantry is located in Zinfandel Village across the street from the Student Health Center. Any student enrolled at Sonoma State University is eligible to use the food pantry as often as once a week. The food pantry carries nonperishable items only. Examples include beans, pasta, canned vegetables, dry rice, breakfast bars, coffee and tea, and quick meals. If you have any dietary restrictions, you can contact JUMP Human Services for assistance.
In addition, Pop-Up Pantries offer fresh produce items such as apples, bananas, potatoes, bell peppers, etc., along with a few non-perishable items. For more information about Lobo's Pantry or Pop-Up Pantries,  .
Pop-Up Pantries Fall 2019
Wed. Sept. 25, Seawolf Plaza, 12:30-2:20pm
Mon. Oct. 7, in front of Library, 11am-2pm
Wed. Oct. 23, Parking Lot C sidewalk, 12:30-2:20pm
Mon. Nov. 4, Seawolf Plaza, 12:30--2:20pm
Wed. Nov. 6, Salazar Quad, 12:30-2:20pm
Wed. Nov. 20, Salazar Quad, 12:30-2:20pm
Mon. Dec. 2, Seawolf Plaza, 12:30-2:20pm
Lobo's Pantry is not open during the summer. Scroll down to see additional food resources.
Donate Now!  
Pay it Forward
Donate your completed (stamped) loyalty card to the Pay It Forward program and help students experiencing financial and food insecurities. To make a donation of a completed loyalty card, drop it in the donation boxes located at any University Culinary venue. Cards will be distributed to students at Lobo's Food Pantry when they pick up their food supplies. These cards can then be used to purchase smoothies, sandwiches and coffee on campus.
I CAN

HELP

I CAN HELP is a Mental Health Literacy, Compassion Development, and Suicide Risk Reduction Program for College and University Campuses. I CAN HELP is designed for students, faculty, staff, and other non-mental health professionals and is sometimes called gatekeeper training. This program can be provided to faculty, staff, or student leaders quickly and has no licensing fees. Contact studentaffairs@sonoma.edu for more information.

 

CalFresh

CalFresh provides monthly benefits to assist low-income households with purchasing food needed to maintain adequate nutritional levels. As a student you could be receiving up to $192 a month for groceries! 

Additional information can be found at Department of Social Services CalFresh Program or you may contact the SSU CalFresh Outreach office at (707) 664-4282 or calfreshoutreach@sonoma.edu to make an appointment for assistance.
Sonoma State University is a CalFresh Outreach Subcontractor.
SNAP, known in California as CalFresh, is an equal opportunity provider and employer.
Community food resources
NOAH Food Pantry
5433 Snyder Lane (across from Rancho Cotati High)

707-548-6624
Wednesdays 4:00 pm - 6:00 pm
Redwood Empire Food Bank
3900 Brickway Blvd. in Santa Rosa

707-523-7900
Monday - Friday 9:00 am - 5:30 pm
Petaluma Kitchen
900 Hopper St. in Petaluma

707-765-6530
Monday - Friday 11:30 am - 1:00 pm
Housing Resources
"One in ten California State University students say they have been homeless at some point in the past year", according to campus surveys.
For transitional age youth only (ages 18-24)

Drop-in anytime to the Dr. Coffee Teen Shelter.
(888) 729-0012

1243 Ripley Street, Santa Rosa       http://sonomacountyhomeless.org/
Temporary cash assistance for low income, unemployed  or disabled individuals.
Walk-ins M-F 8am - 5pm. Apply for services 8:30am - 3pm

2550 Paulin Dr.
Bedding, hot meal, showers. Show up at 5:30pm. Closes at 7am each morning.
Located at the National Guard Armory, 1500 Armory Drive.
Short-term Transitional Housing
Associated Students provides short-term transitional housing for students in need. Inquire at the Student Activities Desk, Student Center 2nd Floor.
Immigration Assistance
CSU Resources for Undocumented Students
SSU Immigration Assistance Resources